Summer holidays are almost upon us and everyone's heading somewhere for a week or two. With mobiles, tablets and laptops, because that way you can check in with social media and work while you're away.
That's normal, right? Who would have a complete break from work and technology on holiday these days and just completely relax? Well, here are a few things to consider.
1 Do you really have to? Or is it just a habit or a feeling you're so essential that things will fall apart if you're not there for 5-10 working days?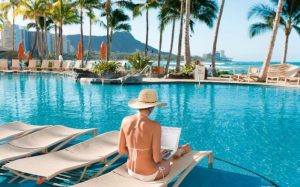 2 Why do you have to? A holiday might be a good time to plan to make changes, so that you can take a break and relax more next time. Maybe work on your delegating skills and/or hire someone you feel you can trust to keep things going smoothly, so that you don't get drawn into everything – and especially when you're on holiday. The key essentials to delegating are: be clear what's required and keep in touch with progress, without getting too involved… otherwise you might as well do it yourself anyway.
3 You will work better after a complete break. Give yourself time off, enjoy wherever you are, read a book and enjoy the moment. There's more to life than work. You can pick things up when you return and you'll be more productive with a clear head, rather than frazzled from juggling work things and a holiday.
4 Everyone else is on holiday. Don't try to keep busy if nobody's making you do it. Use the change of pace to give yourself thinking time. Think about the bigger picture and any strategic changes your company needs for the next 6 months or longer. The minute you're back at work, you'll be back to the day-to-day issues.
5 There's more to life than work. Really, there is. However much you enjoy it, you should have other things in your life that make you happy too – people, places, pastimes or whatever. Spend a little time enjoying them too.
So, no excuses: take a holiday, have a break and forget about work for as long as you can.
By Brian
https://www.quickhr.biz/wp-content/uploads/2019/07/Remote-working.jpg
516
768
Brian Warren
https://www.quickhr.biz/wp-content/uploads/2016/10/brian-warren-main-logo-e1373996055695.png
Brian Warren
2019-07-18 11:10:28
2019-07-18 10:36:17
Holidays: checking how work's going or taking a complete break?