Why pay women less than men? Apart from that general question, why should gender make a big difference to your pay if you're playing football? 
Lewes FC is the first football club in the world to treat and pay its women's and men's teams equally. As the club says: "Same playing budget. Same stadium. Same training facilities. Same coaching budget. Same everything." 
Making this change in 2017, Lewes FC is still the only football club in the world that doesn't pay men more than women to play football.  
The club has also changed from trying to fund itself through investors and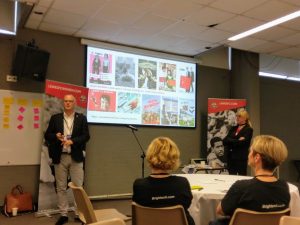 sponsors to becoming a club jointly owned by a vast number of its fans and supporters. For £30, you can buy a share in the club for a year and that comes with a massive range of discounts from local businesses. 
We became interested when we met Lewes FC at the Brighton Summit conference (see pic) and now we're supporting the Rooks – we've become one of the club's many owners.
If you want to think about that too, you can see more information here.
By Brian
https://www.quickhr.biz/wp-content/uploads/2018/11/Lewes-FC-Bond-1.jpg
1024
729
Brian Warren
https://www.quickhr.biz/wp-content/uploads/2016/10/brian-warren-main-logo-e1373996055695.png
Brian Warren
2019-01-04 12:51:26
2019-01-04 12:49:56
Equal pay for players