We love RadioReverb. We like to support community events around Sussex and we also like all kinds of music – so RadioReverb, a community radio station based in Brighton and Hove, ticks all those boxes.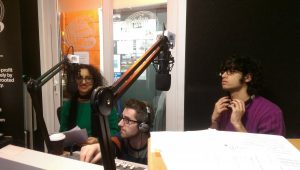 Reverb has no advertising and no set playlists – DJs can play whatever they like. It makes for great shows and if you don't like a track then something very different will follow. Plus there are shows on comedy, football and all sorts of other things.
Reverb is celebrating its 10th birthday and had a fundraising day of live shows including live sessions with local musicians.
We sponsored the fantastic Ruben and Sharon Show (pictured) and Brian popped in for a natter with them. This mother and son team play a wonderfully diverse range of music and are probably the UK's only intergenerational radio show.
Apart from this special event, we also sponsor the amazing Kathy Caton's weekly show.
If you're interested in sponsoring a show, donating or just listening to all kinds of great music, then visit the RadioReverb website – or hear RadioReverb at 97.2FM. Enjoy!
https://www.quickhr.biz/wp-content/uploads/2017/03/Reverbathon-2017.jpg
1197
1200
Brian Warren
https://www.quickhr.biz/wp-content/uploads/2016/10/brian-warren-main-logo-e1373996055695.png
Brian Warren
2017-03-13 17:33:58
2017-03-13 17:47:03
We support RadioReverb