Feeling hard done by at work? Sacked unfairly or victimised because you're somehow different to the others? You're probably aware of Employment Tribunals but you might have seen publicity about fees and the falling numbers of Tribunal claims.
People are aware of Employment Tribunals and the number of claims has been rising for years. But since fees were introduced in 2013, the number of claims has dropped by 70%. So only 3 out of 10 people who might have made a claim before fees were introduced still went ahead.
That's the overall number. Looking at categories, the biggest falls were sex discrimination claims and unfair dismissal claims. Making claims now involves paying around £1,200 in fees, although people can apply to get the fees reduced or waived if they are not working.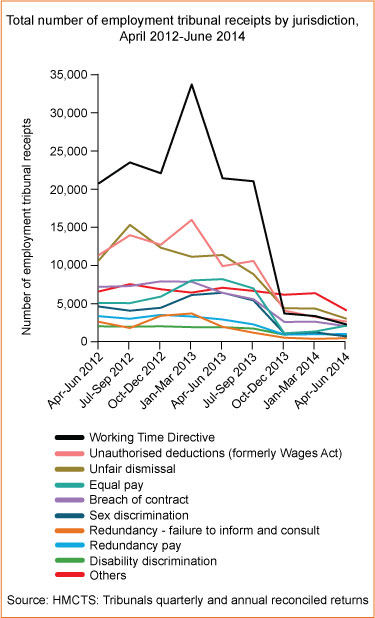 Employers: it's probably good news for you because the risk of people making "frivolous" claims in the hope that you might give them some money to go away and avoid having to attend a Tribunal hearing has reduced. But don't get cocky: it doesn't mean you should change your management styles and assume that people won't ever make Tribunal claims. If you treat someone badly, they will probably still be riled and considering a claim. After all, it just involves a little paperwork to get the fees waived (if they're not earning money) and you might end up having to pay their fees if you lose. Besides, you don't want a "nasty boss" reputation which might increase the risks of good people leaving you or not wanting to work with you.
Employees: don't panic and don't suffer in silence. The fees are £160 for claims relating to money you feel you're owed and then £230 more if there's a full hearing. For unfair or constructive dismissal, any type of discrimination or whistleblowing claims, you have to pay £250 and then £950 more for a full hearing. But you can apply for the fees to be reduced if you're out of work and you can make a discrimination claim without leaving your job.
For more information about fees, click here. To see if you can get the fees reduced, click on this link and download form EX160A.
Employment law doesn't stand still and this whole area will change over time, with test cases challenging decisions on fees and with any changes introduced by politicians in future (higher or lower fees). As an employment law geek, I'll follow this issue and share the news as things happen.
The Government has launched a review of Tribunal fees, although there is no indication of when the review will finish.
Unison is applying for a judicial review of Tribunal fees. It lost its first High Court bid in December 2014 and its latest appeal is due to start shortly.
The Enterprise Minister Matthew Hancock welcomes the drop in Tribunal claims and says they will make employers more likely to hire new people. "Unscrupulous workers caused havoc by inundating companies with unfounded claims of mistreatment, discrimination or worse. Like Japanese knotweed, the soaring number of tribunal cases dragged more and more companies into its grip, squeezing the life and energy from Britain's wealth creators." See more here.
By June 2014, individual claims had fallen 70% year-on-year. Apart from fees, the introduction of the ACAS early reconciliation scheme – where ACAS tries to mediate and resolve issues before a claim is made – may be a factor. See more here.
Employers' opinions are divided, with around a third in favour of the fees, a third saying they should be reduced or abolished and the final third not sure.
UPDATE: FEES ARE SCRAPPED
The Supreme Court ruled that fees are unlawful. Tribunals will cease charging fees and the Government will refund claimants. See more details and analysis here.
By Brian
https://www.quickhr.biz/wp-content/uploads/2015/03/tribunal-2014-1.png
348
527
Brian Warren
https://www.quickhr.biz/wp-content/uploads/2016/10/brian-warren-main-logo-e1373996055695.png
Brian Warren
2015-03-19 09:42:51
2017-07-26 16:11:33
Work disputes - less risk of a Tribunal claim?